Business Profile
Total Safety Services was established in 2003 and Queensland Training Services Pty Ltd was registered as a registered training organisation in 2005 by the O'Donoghue family. Total Management and Training (TMT) bring the two businesses together under one banner. All entities continue to florish due to a reputation of providing prompt, professional service, using qualified and experienced consultants and trainers to deliver up-to-date, industry standard training and advice. Queensland Training Services Pty Ltd was established initially to provide training options for those in Far North Queensland, however are now delivering across Australia due to word-of-mouth and a large component of repeat business.
We constantly look to improve our courses and include only the latest information available. We have clients from Brisbane to the Torres Strait, as well as interstate and overseas, who use our services on a regular basis, and refer us to their friends and colleagues.
Our trainers are fully qualified in the areas they train in, and have extensive industry experience - so you can rest assured your training is backed up by people who know what they are talking about, know the environment and understand what you do.
Meet our team...
Management
Laurie O'Donoghue
Managing Director
Laurie knows a thing or two about workplace health and safety... read more
---
With a Graduate Diploma in Occupational Health & Safety, Diploma in Safety Management, a Certified OHS Auditor qualification and being an Auditor for the Federal Safety Commission, Laurie knows a thing or two about workplace health and safety.
From a background in the insurance industry as loss control analyst and surveyor, workers compensation claims manager, and consulting in developing fully integrated claims and loss control systems, Laurie saw the other side of workplace health and safety and what could happen when things go wrong.
Laurie spent many years as a principal consultant / trainer with the National Safety Council of Australia (NSCA) and workplace health and safety coordinator for the Catholic Diocese of Cairns before returning to NSCA as Manager for North Queensland and PNG. Laurie commenced his own company Total Safety Services in 2003 and Queensland Training Services in 2005.
Laurie is also a Certified Principal OHS Auditor (RABQSA International), an Accredited Provider Qld Workplace Health & Safety Auditor (Construction), an Accredited Workplace Health and Safety Management Systems Auditor (QLD Self-Insurance), is a Justice of the Peace (Qualified) and holds Traffic Management qualifications up to Level 4.
In 2016 both entities came together with a new name - Total Management and Training (TMT). TMT has clients across Queensland seeking Laurie's expertise in workplace health and safety auditing, as well as training in health and safety. Laurie has built up a team of consultants and trainers with strong industry knowledge, years of industry experience and an ongoing commitment to professional development, quality training and assessment and excellence in client service.
Laurie's qualifications and accreditations are varied and include:
Graduate Diploma of Occupational Health & Safety
Diploma in Safety Management
Certificate IV in Training and Assessment
Justice of the Peace (Qualified)
Certified Principal OHS Auditor (RABQSA International)
Accredited Provider Queensland Workplace Health and Safety Auditor (Construction)
Accredited Workplace Health and Safety Management Systems Auditor
Accredited Provider - Workplace Health and Safety Officers Course (all industries)
Occupational Health and Safety Auditors Course
PCQ Construction Auditor
Federal Safety Commission Auditor
Work Safely in the Construction Industry
Implement Traffic Management Plan
Traffic Management – Levels 3 and 4
Traffic Controller
Laser Safety Officer
Workplace Rehabilitation


Laurie's professional affiliations include:
Member Australian Institute of Management
Fellow of the Safety Institute of Australia
Registered Safety Professional (Australia)
Life Membership of the Far North Queensland Workplace Health and Safety Group
Advanced Membership – Australian Organisation for Quality Queensland Inc
Ben O'Donoghue
Director / CEO
Ben is tertiary qualified holding a Bachelor of Information Technology as well as a Certificate IV in Multimedia. read more
---
Before joining the company in 2003 Ben was the proprietor/principal consultant of his own IT company. Ben has experience in hardware, web development, database and software design and implementation, network administration and consulting.
Ben's experience has included designing, implementing and maintaining the information technology infrastructure for Total Management and Training, registration and compliance of TMT as a registered training organisation, maintaining company records, developing and implementing a training database, accounts management, and involvement in the writing of safety management plans, construction safety plans and integrated management systems.
Ben was the Local Controller of Buchan Point State Emergency Service, a position he held since 2008 and regularly trained the emergency services in safety, general rescue, first aid, working safely at heights, map reading and navigation, land search, storm damage operations and a variety of other competencies. Ben has previously been contracted by Emergency Management Queensland to train foundation skills and general rescue operations to State Emergency Service groups in the Torres Strait and other areas in Far North Queensland.
Ben has completed a number of units of competency from the Certificate III in Public Safety, holds a Certificate IV in Training and Assessment; as well as being a Justice of the Peace (Qualified).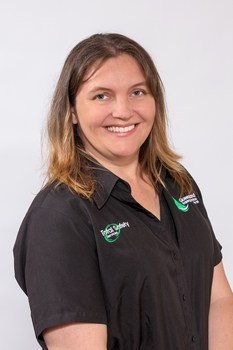 Tina O'Donoghue
Business Development Manager
Tina has over 30 years' experience in human resources, safety, marketing, management and training.
read more
---
Tina commenced her career in Hobart as a stenographer in 1985.
Tina has worked for state and local government, advertising agencies and in radio. She spent two years overseas working for professors of English and Archaeology at the University of Leicester, and was part of the project team responsible for purchasing the Spirit of Tasmania I. Tina has held senior roles with Innkeepers Corporation, Tasmanian Breweries, Tasmania Distillery and Housing Industry Association before finding her way into the legal industry. Tina has over seven years experience as General Manager of mid sized law firms in both Hobart & Cairns. In 2007 Tina moved out of law and into the training space, running the Cairns office of Axiom College, assisting Emergency Management Queensland with emergency services training, before joining Total Management and Training in 2009.
Tina was previously a Q-Comp Workplace Rehabilitation Coordinator and a Qld Workplace Health & Safety Officer. Tina is a volunteer in the State Emergency Service, and when she's not chainsawing trees or tarping a roof in the cyclone season, she's spending time with her husband and children.
Tina's qualifications and accreditations are varied and include:
Advanced Diploma of Business Management
Diploma of Vocational Education & Training
Diploma of Training Design & Development
Certificate IV in Training and Assessment
Certificate IV in Occupational Health & Safety
Functioning as a Workplace Health & Safety Officer
Course in Australasian Inter-service Incident Management System
Certificate in Secretarial Studies and Stenography
Workplace Rehabilitation Coordinator
Work safely in the construction industry
Apply First Aid and Perform CPR
Provide emergency care
Provide basic emergency life support
Manage injuries at emergency incident
Operate communications systems and equipment
Navigate in urban and rural environments
Work in an aviation environment
Search as a member of an air search team
Work in an emergency operations centre
Search as a member of a land search team
Protect and preserve incident scene
Visual Tracker course
General Rescue and Casualty Handling
Risk Management
Working Safely at Heights
Trim and crosscut felled trees
Traffic Control Operations
Current and Past Involvements
Regional Committee Member of the Australian Institute of Management
Treasurer of the Far North Queensland Safety Group
Treasurer and Past President of the State Emergency Service Buchan Point Support Group Inc.
Board Member of the Australasian Aviation Group – Cairns
Sub-Editor of the Australian Legal Practice Management Journal
State Delegate for RSPCA Tasmania Inc.
Secretariat of the Southern Division Committee of the Tasmanian RSPCA


Current and Past Memberships
Far North Queensland Safety Group
State Emergency Service Buchan Point
Fellow of the Australian Institute of Management
Law Council of Australia – General Practice Section
Australian Legal Practice Management Association
Cairns Chamber of Commerce
Cairns Business Women's Club
Trainers / Consultants
Peter Atkinson
Trainer - Construction | HRW
Peter has over 20 years' experience in construction, mining and petro-chemical industries.
read more
---
Commencing as an apprentice boilermaker in Toowoomba Qld in 1989, Peter went on to develop skills as a rigger, dogger and crane driver.
Peter has a Diploma of OHS, a Certificate IV in Training & Assessment, as well as being a Workplace Health & Safety Officer across all industries. Peter is an accredited assessor for high risk work and health and safety training, has developed training programs, site specific safety induction programs and manuals.
Industry experience for Peter has been varied – he has been involved in the construction of the Goliath Cement Plant in Railton, Tasmania, the Rice Growers Feed Mill in Tongala, Victoria, Stanwell Power Station in Rockhampton, Queensland and the Loy-Yang B Power Station in Traralgon, Victoria. Peter has worked for Kidston Gold Mine, Red Dome Gold Mine, Camalco Bauxite Mine and Cape Flattery Silica Mine.
Peter has also worked on the Queensland Fertilizer Project at Phosphate Hill, Duchess, Sun Metals Zinc Refinery, Coogee Chemicals in Townsville, and Ampol Fuel Refinery in Brisbane.
Ship construction and repair has included working on the construction of two Navy Hydrographic Survey Vessels – HMAS Melville and HMAS Leeuwin, as well as the dredge vessel – Brisbane.
Bruce Grimley
Trainer / Consultant - Safety
Bruce has held a variety of roles in Workplace Health & Safety over the years, working collaboratively with Australian and overseas companies.
read more
---
Bruce developed and published a Safe Work Practice manual and an Electrical Safe Work Practice training manual in collaboration with Duke Energy Charlotte North Carolina USA and South East Queensland Electricity Corporation (SEQEB). Bruce managed the whole of business OHS program including Workers Compensation for over 600 employees located in some of the remotest parts of Queensland.
Bruce was then recruited by Ergon Energy and led a team of safety professionals in establishing and maintaining Ergon Energy's OHS program from its inception in 1999. Bruce also developed and wrote Ergon Energy's Safety Management System (compliant with AS4804). Ergon Energy achieved 5 Star Key Element score of the NSCA 5 Star Grading System within three years of implementing the SMS. The system consists of over 100 procedures and work instructions. This was while managing Ergon Energy's whole of business workers compensation process for over 4000 employees including attending and advising legal counsel at mediation settlements resulting in significant reduction in workers compensation premiums paid.
Over time Bruce moved into Safety and Compliance Management and developed and implemented the Compliance Program for Ergon Energy's TaDS Business Unit in line with the requirements of AS3860, undertook "compliance audits" and "for cause" audits both on electrical, construction and environmental activities across Ergon Energy's entire operations of over 100 depots, and was a member of a specialist team that developed and wrote the Distribution Risk Management Training manual deployed to over 2000 construction based employees.
Bruce was then seconded to manage TaDS whole of business (1100 employees) safety program covering overhead and underground construction, substation maintenance, communications, transmission construction and maintenance, civil construction and maintenance, electrical and civil design, stores and administration.
Prior to joining Total Management and Training, Bruce was managing and guiding the development and implementation of safety, quality, and environmental systems across Tenix Infrastructure projects (Gas, Power and Water) in accordance with corporate, client and legislative requirements and business unit objectives, goals and targets.
Bruce's qualifications and accreditations are varied and include:
Associate Diploma of Applied Science, Workplace Health and Safety
Graduate Diploma of Occupational Health and Safety
Graduate Certificate Risk Management
Master of Business Administration (MBA)
Certificate IV in Training and Assessment
Certificate III Public Safety (Community Safety)
Workplace Health and Safety Officer Queensland
Work Safely in the Construction Industry White Card
Overhead Live Linesman - Queensland Electricity Commission
Overhead Linesman - TAFE NSW & Qld
Workplace Rehabilitation
Internal Quality Auditing
Drivers Licence: HC, R


Professional affiliations include:
Australian Institute of Management
Risk Management Institute of Australia
David Kemp
Trainer / Consultant - Safety
David's background is a diverse and interesting one covering a range of industries and competencies.
read more
---
From an engineering assistant undertaking oxy, MIG and Arc welding in an auto and machinery shop, David moved into baking (as you do) and was Production Manager for Bakers Delight Bega, before moving up to OHS Manager for NSW and the ACT with Bakers Delight Holdings. David went on to become a Franchisee within Bakers Delight Holdings operating stores in Far North Queensland for over seven years.
David then moved into the Drilling Industry and was the Safety Advisor for DrillTorque, ensuring the effectiveness of their safety systems, managing safety compliance, coaching and mentoring staff, and conducting regular inspections and audits.
From there David became a safety consultant for Safetylec Management Solutions undertaking hazardous area classification consultancy for mining and government, auditing for Department of Defence operations and developing construction safety systems, before joining Total Management and Training in 2015.
David has high level skills in system development and auditing and is currently working towards a dual Masters in Occupational Health and Safety, and Occupational Hygiene and Toxicology.
David's qualifications and accreditations are varied and include:
Graduate Diploma in Occupational Health and Safety
Graduate Certificate in Occupational Health and Safety
Advanced Diploma in Work Health and Safety
Advanced Diploma in Occupational Health and Safety
Certificate IV in Training and Assessment
Certificate III in Small Business Franchising
Certificate II in Drilling Operations
Food Safety Supervisor qualification
Lead Auditor in WHS Management Systems
Lead Auditor Certification
SIA Certified OHS Practitioner
Licenced Fire Safety Advisor
QBCC Fire Occupational Licence
S1, S2, S3 Site Safety Supervisor Course
Operate Breathing Apparatus
Work in Confined Spaces
Work Safely at Heights
Low Voltage Rescue
Senior First Aid
Perform CPR
Professional affiliations include:
President of Far North Queensland Safety Group
Member of Safety Institute of Australia
Susan Stone
Trainer - Business and Training & Assessment
Sue works as a contract trainer, delivering face-to-face training for Certificate II in Horticulture in the Torres Strait as well as Retail and Business training across the Far North.
read more
---
Sue has developed and implemented learning programs, delivery and assessment strategies, conducted audits, training needs analysis, conducted assessing through the recognition of prior learning process, and undertaken occupational health and safety assessment according to Queensland and Northern Territory legislation. Sue has written and developed scope for Registered Training Organisations to achieve a set of national competency standards and qualifications set out in training packages; and has been involved in developing an accredited course to suit the mining industry to formally recognise a qualification not covered by a national training package.
Sue is the owner operator of a privately owned training organisation, operating in Queensland and Northern Territory, offering short non-accredited courses to assist in streamlining businesses and provide staff with essential business skills.
Sue also delivers face-to-face training for Certificates I and II in a range of qualifications designed to provide opportunities for learning and growth for early school leavers, indigenous communities with learning barriers, as well as persons wishing to improve on their skills and knowledge to gain employment through Angus Knight Learning.
Through AOT Sue was contracted to assess recognition of prior learning (RPL) applications as well as assessing Certificate IV in Training and Assessment, Certificate IV in Business, Business Administration, Frontline Management, Small Business Management as well as Diploma of Business, Diploma of Business Administration and Diploma of Management. Sue assisted with marketing and compliance as well as moderating trainer/assessors and part of the validation process with other trainers.
Sue has delivered and assessed training at Lotus Glen Correctional Centre (Mareeba), ensuring Indigenous and Torres Strait Islanders have the opportunity to gain qualifications; provide support with employability skills as well as develop and improve their Language, Literacy and Numeracy skills prior to release from prison. Sue has conducted White Card training at Innisfail High to help young students gain a building block to facilitate entry into the construction industry.
Sue was employed by the Chamber of Commerce (NT) in Darwin as Trainer/Assessor predominately for the Australian Apprenticeships User Choice Program. Her position entailed developing training and assessment plans which met the employers' and students' needs, delivering, mentoring and assessing students. Site visits were carried out on a regular basis to ensure students' needs were being met. Sue liaised with the Australian Apprenticeship Centre NT with student funding approvals and built a strong rapport with DET NT by providing accurate information and complete applications for the annual resource agreements for the program. Sue determined appropriate resources for Certificate I, II, III and Certificate IV in Business as well as advised and validated Certificate IV in Training and Assessment.
Another key responsibility for this position was to submit the quarterly AVETMISS report to DET NT. Sue has a very strong administrative background with attention to detail being an important part of training/assessing and recording all students' details correctly to ensure accurate data submission.
Sue's qualifications and accreditations are varied and include:
Diploma of Vocational Education and Training
Diploma of Training Design and Development
Diploma of Business
Diploma of Management
Diploma of Business Administration
Diploma of Horticulture
Certificate IV in Small Business Management
Certificate IV in Frontline Management
Certificate IV in Training and Assessment
Certificate IV in Occupational Health and Safety
Certificates III and IV in Retail
Work Safely in the Construction Industry
Graham Hedley
Trainer / Consultant - Training & Assessment
Graham has proven and recognised skills in the delivery of training and development initiatives, as well as strategic, operational, change management and project management experience.
read more
---
Graham has strategic, operational and managerial experience in large scale operations. Significant experience has been gained in the analysis, delivery and development of education and training initiatives in both the public and private sectors.
Graham is skilled in monitoring and reporting on financial performance, operational analysis and development of revenue growth strategies, has extensive project management experience and experience in high profile, high volume, venue operations. Graham also has a highly successful record in the implementation of human resource strategies, staff motivation and training, as well as development of workplace health and safety programs.
With specialised expertise in achieving quality outcomes in high volume settings, highly effective leadership and communication skills, experience in the planning, marketing and promotion of conferences, conventions and special events, negotiating large scale supply contracts, and experience in the design and implementation of food safety, H.A.C.C.P. and OHS plans and procedures, there's not much left in the hospitality industry that Graham hasn't handled.
Recent career highlights include various contractual roles encompassing RTO operational management including Trade Training and Business College Manager for Skill360 Australia, and NSW State Manager for Arrow Training. Previous career experience has included management of Hotel Rottnest, Food Service Director for the Brisbane Entertainment Centre, Program Coordinator for Kingscliff TAFE, and Operations Manager for Gold Coast TAFE.
If that wasn't enough, Graham was Director of Graham Hedley and Associates providing business solutions across a broad spectrum of management and training initiatives in the Hospitality and Tourism industry.
Clients included AbiGroup, Mirvac Hotel Group, Newcastle City Council, Six Continents Hotels, Spotless Services Limited, Eurest Australia, Qld SLSC Supporters Association, Mike Driscoll and Associates, Career Training Institute of Australia, Carrara Catering, Northcliffe S.L.S.C, Gold Coast Turf Club and Queensland Hotels Association.
Graham was Lead Consultant during pre-opening and the early operation stage of the Sydney SuperDome and has been Food Service Director for Warner Village Theme Parks responsible for over $15 million in annual revenue.
Qualifications and professional activities include:
Master of Professional Education and Training
Graduate Certificate Professional Education and Training (Workplace Vocational Education and Training)
Advanced Diploma of Management
Diploma of Training and Assessment
Diploma of Business
Diploma of Frontline Management
Diploma of Hospitality – Management
Diploma of Project Management
Certificate IV in Small Business Management
Certificate IV in Training and Assessment
Allan Storck
Trainer - Electrical Safety
Allan's qualifications include a Bachelor of Social Science (majors in Employee Development, and Work & Organisational Studies), a Diploma in Teaching and a Certificate IV in Training and Assessment.
read more
---
Allan holds NSW, QLD and PNG electrician licenses, as well as a PNG mine electrician license, small bus license, industrial electronics certificates and senior first aid certificates.
With over 28 years' experience facilitating learning and development in Australia and overseas, Allan is highly regarded for his technical training and assessment abilities.
Allan spent 11 years in a Papua New Guinea metalliferous mine managing the technical and instrument training for over 500 electrical/instrument workers, ten years as a technical trainer at the Newcastle Technical College, and was Technical Training Resource Manager for Ergon Energy Corporation, Queensland.
Allan has identified, sourced, produced and delivered training for PNG and expatriate employees in electrical, electronic, refrigeration and auto-electrical trades, sat on the Lae, Unitech Board of Studies for Electrical Engineering, invigilated mine employee external examinations on behalf of several Australian universities, and delivered specialised engineering trade training courses such as diesel power station operations, servicing refrigerated shipping containers, programmable logic controllers and industrial instrumentation and metering.
Kim Grossman
Trainer - Asbestos Removal
Kim's career has been in the building and construction industry spanning over 30 years.
read more
---
Kim is the current Chairman of Master Builders Association (FNQ), and has been contracted to Queensland Master Builders for many years undertaking training and assessment from Townsville to the Torres Strait Islands.
Kim is also contracted to the Housing Industry Association undertaking training and assessment from Rockhampton to Cairns, as well as being contracted by RTO's to deliver various business qualifications.
Over recent years Kim's contracts have included development of WHS Management Plans and safety advice for numerous builders, including renovations, commercial and multi-residential construction, project management, insurance repairs and alterations, management of asbestos contaminated material and awareness on site during estimating through to work completion.
Kim has extensive experience working around asbestos, removal of damaged asbestos contaminated materials and project management of large removal jobs of asbestos contaminated materials using licensed contractors, ensuring safe work method statements are followed.
Kim's experience also extends to development of SWMS for various trades, contract energy rating work, and contract estimating for residential and commercial projects throughout Queensland. Kim dabbles in contract residential construction direct with the public, mainly concentrating on small repairs and renovations on older homes in the Cairns area.
Whilst with Glenwood Homes Pty Ltd Kim was in charge of training new staff in sales and estimating departments, managing housing projects, and the management of reconstruction of 35 homes in Innisfail after cyclone Larry.
Kim was the owner operator of Grossman Builders in Townsville undertaking residential construction in the 1980's and 1990's and prior to that was a self- employed contractor in the housing industry in Western Australia.
Kim's qualifications and licenses include:
Qld Building Construction Commission
Builder – Low Rise
Builder - Open - Restricted
Work Safely in The Construction Industry. White Card
MBA of NSW & ABSA Short Course in Building Thermal Performance (Residential)
BERS Solar Logic Accreditation
Building Contracts – BCGBC4003A & BCGBC4016A
HIA Greensmart Accreditation
Certificate IV Training and Assessment
Workplace Health & Safety Officer (Construction)
National Police Certificate
Positive Notice blue card for Child Related Employment
Swimming Pool Safety Inspector's Course
Certificate IV Occupational Health & Safety
Certificate IV in Building and Construction (Building)
Residential Building Inspectors Course
Remove Non-Friable Asbestos
Supervise Asbestos Removal
Kim holds the following memberships:
Queensland Master Builders - Current Chairman for Far Northern Division
Housing Industry Association
Construction Skills Queensland Regional Action Plan Committee
FNQ Safety Group
Velg Training
Bruce Irvine
Trainer / Consultant - Fire Safety
Following a career providing high-level strategic advice and practical solutions pertaining to security, and workplace and fire safety across a broad range of industries, Bruce established BravoZulu Fire Safety and Security Pty Ltd in 2010.
read more
---
Through his experience, Bruce identified significant gaps in the development and delivery of compliance training in the fire, security and safety sectors. Whilst most training provided was content dense and met regulatory requirements, it omitted possibly the most important element – human physiological and psychological responses to emergency situations. By not specifically addressing how humans potentially respond to crisis situations, be it fight, flight or freeze responses, trainees were not adequately prepared to deal with emergencies, regardless of their in depth knowledge of standards, policies and procedures.
When Bruce delivers emergency training, he ensures that trainees are not only knowledgeable but are physically and psychologically prepared for emergent situations. This is achieved through the facilitation of a range of learning experiences including direct instruction, role play through a range of scenarios, training in simulators, using actual equipment and a comprehensive explanation of human responses.
Expertly trained and fully licensed, Bruce has the capacity to provide a range of services including:
Advisory services regarding fire and workplace safety and security
Fire safety audits for business premises
Development of comprehensive and compliant documentation pertaining to emergency preparedness, and fire and evacuation planning and instructions
Training in all aspects of safety and emergency responses including hands on portable fire extinguisher instruction

Qualifications and Accreditations:
Advanced Diploma of Occupational Health & Safety
Diploma of Business (Frontline Management)
Diploma of Security and Risk Management Advanced OHS Risk Management
Implementing an OHS Management System
Lead Auditor in OHS Management Systems
Certificate IV in Training and Assessment
Certificate IV in Assessment and Work Place Training
Function as a Workplace Health & Safety Officer (Recertification)
Fire Safety Advisor Qld
Certified Healthcare Security Supervisor (CHSS)
Marine Technician Propulsion (Royal Australian Navy)
Health Care Industry Fire Officer (Level 1)
Certified Healthcare Security Officer (CHSO)
Certified Advanced Healthcare Security Officer (CAHSO)
Certified Healthcare Security Supervisor (CHSS)
Certificate III in Aggressive Behaviour Management – Operator
Certificate IV Operational Safety Training (Defensive Tactics Instructor)
Certificate II in Security Operations
Certificate III in Security Operations (Recertification)
Apply First Aid
PPCT Defensive Tactics Instructor (Recertification)
Performance Appraisals and Development
Handle Dangerous Goods and Hazardous Substances
Project Management in Queensland Health (PM Plus Essentials)
Queensland Security Officers Licence
Queensland Security Advisors Licence
RABQSA Provisional Auditor
QBSA Licence (Emergency Procedures)
Queensland Safety Officers Licence
30215QLD General Safety Induction (Construction Industry) - Blue Card
Regional Chairperson - International Association of Health Security and Safety (IAHSS)
Senior Member - International Association of Health Security and Safety (IAHSS)
The National Association of Healthcare Fire Officers (UK)
Fire Protection Association of Australia